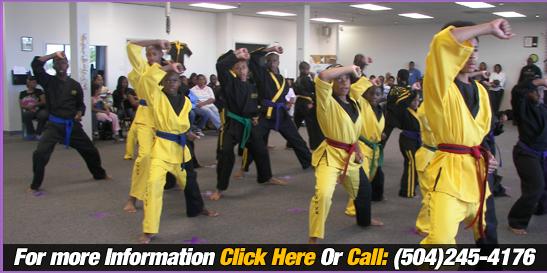 Welcome to the XS Martial Arts Dojo
Where Discipline is #1
Interested in Martial Arts and want to find out more about us? Come in for a trial session. Contact us at 504-245-4176 to schedule an appointment!
Everyone is a winner at XS MAD


We are organizing and hosting this martial arts tournament and are hoping for tremendous success - while striving to maintain positive values and a unique blending of traditions... the combine the old and the new... to take the Martial Arts into an entirely new direction and greater heights.
We would like to thank all the Instructors, Masters, Grandmasters and participants from across national levels, in advance, for the recognizing the positive benefits of Martial Arts training throughout the world. The extraordinary support to making the Crescent City Kumite a bigger and more prestigious event is greatly appreciated and we look forward to making this event a memorable and unique experience for everyone.
On Saturday, May 17, 2014, we are hosting our 7th Annual Crescent City Kumite, at St. Mary's Academy.
Mark your Calendar now, Crescent City Kumite is guaranteed to be the year's exciting and enjoyable event. DON'T MISS IT!!!!! Please forward this information to all students, classmates and friends who may have an interest in participating in this event. Click here to download the registration packet.
After School Program is back in session!
We have been providing the leading standard of martial arts instruction in New Orleans for over 10years and we offer a unique transported after school martial arts program!
We transport students from their school to ours. When students arrive at our school, they will have time to spend in our after school room where students have the opportunity to work on their homework and other constructive activities before their class starts. When class starts, students are geared up in their uniforms and participate in a 45-minute martial arts class. These classes are structured to build character development daily emphasizing on Discipline, Respect, Honor and Self-Control. Parents can be reassured their children are being supervised and protected by highly qualified staff at all times until parents pick them up.
When you do pick up your child daily from the program, they will have completed their martial arts class, worked on homework, and are ready to spend some quality family time with you.
Our after school program is designed for children grades Kindergarten through8th grade. It's a constructive alternative to daycare designed for working parents with young children that need a safe and fun place to go after school. We are NOT a daycare. Contact us at 504-245-4176 to discuss more benefits of the program.
Click above to watch the Goldman Sachs Video
Visit our Community Partner:
After School - Click Here to view our Interactive Brochure:


Kids - Click Here to view our Interactive Brochure:


Adults - Click Here to view our Interactive Brochure:


Family - Click Here to view our Interactive Brochure:



Martial Arts After School Program
Are you looking for the most advanced after-school program for your children? We offer a martial arts, transportation, and afterschool program all in one!

Gives children an unstoppable "can-do" level of confidence and sets the course for a lifetime of leadership qualities and success.
You know how difficult it is to find a quality After School program. Most programs are little more than glorified babysitting services with no structured plan to improve your child's health, self-esteem, behavior, confidence, focus, manners, leadership skills or self-discipline.
Worry no more—your child can enjoy a fun, safe, structured, top-quality program at XS Martial Arts Dojo!
At our After School Program, your child will get into great shape physically and learn valuable self-defense skills. But that's just the beginning.
Many of our children even enjoy better grades and academic success at school as a result of their improved self-discipline, concentration and study skills!
Our After School Martial Arts Program students enjoy all of the following:
Exciting and fun classes with our skilled professional instructors

Supervised homework time

FREE testing for belt promotion goals

Friday Fun day and more
Hours and Eligibility
Eligible Students: Boys and girls in kindergarten through 8th grade. This exclusive program has limited space. Returning children from last year who are in good standing will automatically have a space reserved.
Hours: The After School Martial Arts Program runs from 2:30pm (or whatever time the school day is over until parent pick-up (no later than 6:05pm).

Women's Self De
fense
Imagine a woman yelling "No," stomping on the foot of a man who grabbed her from behind, and then getting to safety. Imagine a teenage girl being taunted by older boys as she walks home from school. Imagine her assessing that they pose no danger and then continuing to walk confidently and with awareness, knowing she does not need to yell back to be safe. Imagine a mother with her two children being approached aggressively by a man screaming words in English she does not understand. Imagine her standing strong and repeatedly yelling, until he runs away. Imagine a teenager leaving a party because the boy hosting the party insists she take a drink of his special brew. XS Martial Arts Dojo is providing women and girls the opportunity to learn skills to turn these images into reality.
Click Here for more information.
Get Ready to BURN!!!
A work out that combines kickboxing, cardiovascular and body toning while learning self defense tactics. Improve strength, muscle tone, and endurance. Reduce body fat and stress levels. Classes are set to music to enhance student enjoyment, timing and rhythm. Depending on your physical ability, you choose whether the class will be high impact, low impact or circuit training. Cardio-Kickboxing classes combine kickboxing and karate skills with exercise to provide a unique combination of flexibility, strength, endurance, and cardiovascular exercise with the added benefit of self defense skills. It is a high energy workout where the body and the mind must work as one. Many participants have found the techniques of kickboxing to build confidence, self-esteem, self control, a positive mental attitude, endurance, toning, muscle building stress reduction, and weight management through a total body and mind and spiritual workout.
Get in shape with the best cardio kickboxing! You'll work your legs, arms, abs, and heart.
And you'll have fun doing it.
Class Schedule
Tuesday – 8pm – 8:45pm
Wednesday – 8pm – 8:45pm
Thursday – 8pm – 8:45pm
Before and After School Program
Need Somewhere Safe for your child to be Before and after School?
Many times parents/guardians are face with having to start their morning off getting to work before the child's school take in. Or, if your child(ren) stand at the bus stop while you're already gone from home. Maybe you pay for transportation, race from work to get them to their recreational practice, still have to make sure homework is done, and cook dinner! Who does this? You can have it all in one location and one stop!
XS Martial Arts Dojo presents its "Before and After School Program":
Program starts at the beginning of the school year and runs through the end!
• Before School Program (Mon –Fri)
• 6am – 7:30 am
• Motivational Talks
• Morning Light Exercise
• You drop them off to us, and we'll take them to school in our vans
• After School Program (Mon –Fri)
• 3pm – 6pm (we pick up as early as 2pm)
• Homework Assistance (one hour of homework completed minimum)
• Kickboxing/karate (four days a week)
• We pick them up from school in our vans, you pick them up After Work
• Doesn't this make everything so much easier?
Our school offers:
1. Monday through Saturday classes and great parking
2. A professional, clean and safe training environment
3. Tons of fun! From Birthday Parties to Sleepovers
4. A kids' curriculum
5. An adult ONLY Self Defense & Fitness / Cardio Program
Are You Afraid of Being Attacked
Whether you're a child, teen, adult, senior, man, or woman -- you will find our approach to martial arts training to be a positive life-changing experience that can improve your physical and mental health while teaching you to protect yourself against an attacker.
Sensei Horne was recognized by Channel 4 for his hard work and dedication. He has been a driving force and an inspiration to many you people in the Greater New Orleans Area, click below to view the video.